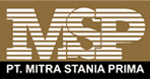 Operation
Resources
Tin Ore Resources Reserve
PT. MSP currently holds 13 Mining Authorizations of Exploitation covering a total area of 3,051.8 hectares which are spread in 11 locations in several Regencies in Bangka Island, Indonesia.
Location
Location & Licensing
Mining Authorization of Exploitation currently held by MSP covers an area of 3,051.8 hectares located throughout Bangka Island.
As a mining company, MSP holds the following tin mining business licenses:
Tin Smelting Industry License MSP's tin smelting factory has a capacity of 6,000 ton tin ingot/metal per year.
Mining Authorizations (KP), namely as follows:
Mining Authorization of Exploration
Mining Authorization of Exploitation
Mining Authorization of Transportation
Mining Authorization of Hoarding
Mining Authorization of Processing and Refinery
Mining Authorization of Sales
License as Registered Tin Ingot Exporter.
Cooperation
Cooperation with Malaysia Smelting Corporation Bhd (MSC Bhd)

PT. MSP has established cooperation with the largest tin mining and smelting company in Malaysia, namely Malaysia Smelting Corporation Berhad (MSC Bhd) in the form of joint production. This cooperation comprises tin production operated by MSC Bhd in the Mining Authorization of PT. MSP.

Cooperation with Small-holder Mining Authorization

PT. MSP also engages in cooperation in the form of purchasing and smelting of tin ore from small-holder mines granted valid permit from government institution as Small-holder Mining Authorization. In addition, PT. MSP also establishes mining cooperation with cooperatives and small-scale miners in several locations of Mining Authorization of Exploitation belonging to PT. MSP.
Exploration & Exploitation
Exploration
Exploration activity is conducted to determine the existence, characteristics, quantity and value of a mining. This is an initial phase, taking place from two to five years and highly risky. Although a company has allocated million dollars in this activity, it may cease activity in the event that it fails to discover any mined material deposit with the expected quality and quantity.
After ensuring that the mined material, i.e. tin ore meets the expected quality and quantity, the activity is proceeded with exploitation phase in which the mine is dig up for further process or direct use.
Exploitation
Activity conducted by PT. Mitra Stania Prima in tin mining is concerned with mining exploitation in Mining Authorization of Exploitation area of PT. MSP located in Bangka Island which adopts (small and large-scale) open-pit mining system. Products resulting from this early phase of mining are still mixed with sand and the SN content is not evenly-distributed.
In several locations with relatively low tin ore reserve, mining is operated by adopting small-scale open-pit mining system and establishing partnership with local partners.
In Mining Authorization with significant quantity of tin ore reserve, mining is operated by adopting large-scale open-pit mining system and using various heavy equipments and considerable number of employees (including jig plant).
Tin ore is separated (washed) from sand mixture by way of utilizing water flow based on gravity or difference of density between tin ore and sand. In general, washing is divided into two processes, namely wet process and dry process. Wet process uses jigs table as its main component while dry process uses roasting spit made from metal plate with a specific thickness as its main component.
The washing produces tin ore concentrates to be then dried to obtain a minimum Sn concentrate of 70%. This tin ore concentrates are placed in plastic sacks or drum and transported to PT. Mitra Stania Prima smelting factory in Sungailiat.
Smelting & Refinery
Dried tin concentrates with > 70% of Sn content then enter a smelting process by way of using Stationary Reverberatory Furnace, each having 5 ton capacity per smelting process and a duration of approximately 12 hours. Smelting process comprises two phases, namely first, ore concentrate smelting in the furnace and second, refinery process in refining boiler.
Tin concentrates are smelted by way of mixing tin concentrates with anthracite which functions as redactor and lime stone as flux according to the weight composition determined. The mixture is then smelted in the furnace at a temperature of approximately 1,250°C
Tin ore smelting produces tin ingot. The tin ingot then undergoes refinery process with minimum content of Sn is 99.85%.
---